Pure Waste, a company with its origins in a garage, has blazed its way to a dramatic growth by manufacturing clothing of recycled materials. As demand, based on the sustainability value proposition increased and business grew, Pure Waste faced new requirements in information systems, familiar operating models, organizing and management models. In the middle of daily business activities, they discovered that their own viewpoints to development were limited. External insights and experience were needed to get long-term development work on the right trail.
It was magnificent to start strategy work and the building of both process and organization reform on the foundation of the ethical principles of two brands, Pure Waste Textiles Oy and Costo Oy, who have the same owners, and their desire to develop, enthused people at Innoman.
Via ERP to logical reform
The reorganizing of information systems was the starting signal for the cooperation. The aim was to reorganize sales, warehouse management and other processes to get them fixed for future needs. The entrepreneurs of Pure Waste and Costo recognized the value generated by external experts in the reorganizing of processes.
– In connection with our ERP reform we received positive messages about Innoman from several directions, and they led to discussions where it was easy to reach a common vision. We were aware of our needs, nevertheless, we also knew that the reform work requires systematic approach. Besides the content of the reorganizing, we recognized that it would be challenging to carry out the development work by our own staff, only as far as keeping the schedules was concerned, says Jukka Pesola, the CEO and partner in Pure Waste, about the points of departure and the first contact with Innoman.
The decision about using Innoman for reorganizing ERP was made in the steering group. The system had been purchased as early as before launching the cooperation. But how could the properties of the new enterprise resource planning system be reflected in the best way in the staff's activities? According to our values, the aim was to make people's work easier, to improve well-being at work and to lay the foundation for long-term success. The product is fine; however, attention should be paid to processes and people as well as management. Experience, ideas and vision are needed to build new structures for the operations and for the strategy work.
Confidential and open co-operation
– Innoman's role became stronger, from the defining of processes and the ERP project to a strategic partner. We had identified needs, and Innoman's presence strengthened our plans, Hannes Bengs, partner responsible for marketing, recalls how cooperation with Innoman became more intensive.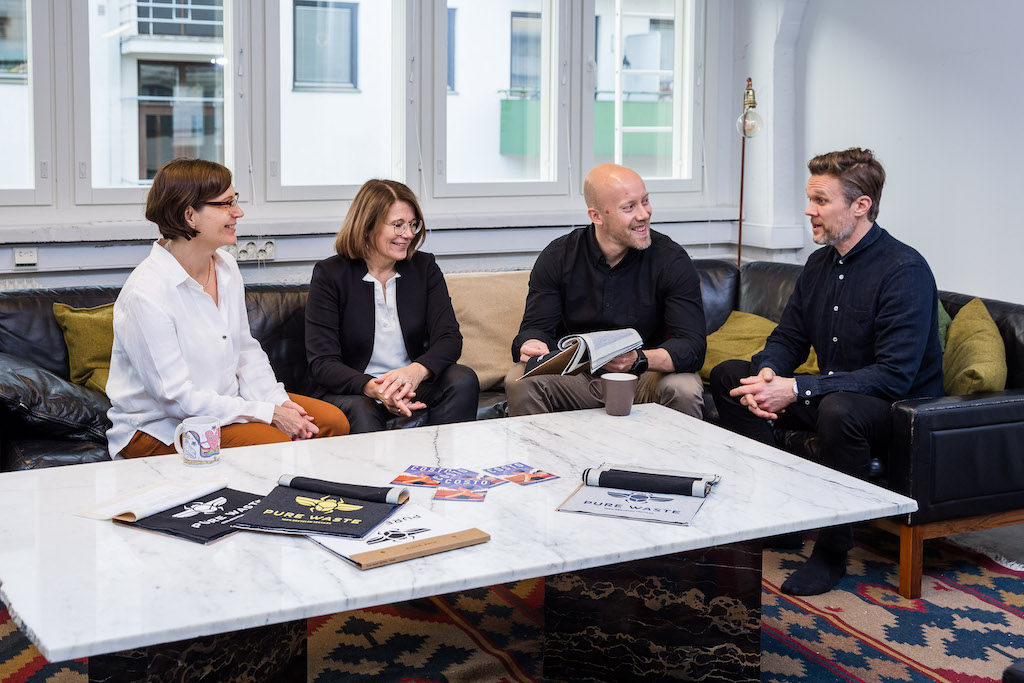 – The key persons in Pure Waste and Costo got very well involved in the strategic reorganizing work via the ERP project. The needs had been identified, the attitude was right and the companies had a clear mission. There were all prerequisites for productive cooperation, Innoman's CEO Venla Berg describes the initial situation.
The point of departure was that the same people implement two brands, whose operations are based on the same values. Operational processes, organization-related changes and management models, however, required working and defining. This way, the ERP project was expanded to confidential strategy work including open discussion.
– Innoman challenged the old structures and shook them, and that was exactly what we were looking for. These discussions released energy, and we felt that this cooperation must be productive, Jukka and Hannes say almost as one person.
Sustainability and targets
Discarded fabrics or surplus cotton left over from textile manufacturing, get a new life in the production of Pure Waste and Costo. The making of a single Pure Waste T-shirt saves 1425 litres of water, in comparison with the manufacturing process of a 'normal' similar T-shirt. Many people would be proud even of this way of implementing sustainable development; this, however, is not enough for Pure Waste and Costo.
– In our activities, sustainability is not limited to ecological and environmental matters. They have already been managed well and laid in the foundations of our companies. As far as social responsibility is concerned, we still have work to do, and for this reason, we need reorganizing. The cooperation between Innoman and us has made it clear, who does what and how. Besides the persons themselves, their job descriptions and roles are clear also to their colleagues. Distribution of information and communicating will become easier, when responsibilities have been defined. We approach the targets of operational development from a humane viewpoint. We believe that the clarification of everyday things will serve the whole, Hannes, responsible for sustainable development, sums this up.
CEO Jukka Pesola expresses the 'via people to success' idea in concrete terms: well-being at work is measured annually, in order to make the development work into a continuous process, instead of a single effort, also for that part.
Growth is facilitated by high-quality strategy work
High-quality strategy work is possibly only when good communications and experience meet.
– Innoman got a good grasp of what we are and where we are heading to. The most important notion of our cooperation was the fact that we can and dare to talk about anything. Their experience was manifested in the systematic progress from one interim milestone to another. We were always aware of the schedule and factual content of meetings in advance, Hannes recalls the progress of the development work and its quality, and continues:
– In-depth business understanding is not self-evident, but in case of Innoman, it is a strength. On the whole, the Innoman trio played well together, and their job descriptions were clear from the viewpoint of the buyer of the service. Pekka had a grasp of the big picture, Venla for her part, had understanding of the deeper structure and job descriptions. Sari as a change manager, has emotional human understanding, describes Hannes Bengs how Innoman operates.
How to measure the development work?
With regard to the values of Pure Waste and Costo, amounts expressed in euros or some other things visible on top of the iceberg will not be set for the scorecard of the development work. Strong belief in one's own mission and business allocates the change work to the reasons in the roots and their development. Thoughts will not wander to paint a picture of premature consequences.
– The yardstick was the fact that we wanted to have the highest-level strategy with its management models and process reforms. And we got them. Of course, the acquisition of new responsibilities and job descriptions is still unfinished, which means that the work still continues, says Jukka Pesola.
Experience can be bought
Organizing for growth is a challenging whole, especially, when reorganizing of information systems is also included in the change. As an in-house project, it tends to be easy to slip from schedules, budgets and even from the content of the reform.
– It is important for the reorganizing work to have an existing formula and structure that can be scaled according to needs. Of course, we did not have such one, and therefore, in addition to the views of Innoman's staff, we got valuable information based on experience. This extensive whole, where a company's activities are shaken from several angles, requires high-quality development project management, in addition to the quality of the factual content, Jukka Pesola summarizes his ideas about the cooperation with Innoman and the use of an external expert.
Finally, Hannes Bengs and Jukka Pesola wish to thank separately Innoman's team. Both answered: "For sure" to the question: 'Would you recommend Innoman, when a company has needs to reorganize business'.
Check out also Innoman Talk Show with Jukka Pesola from Pure Waste. How can a circular economy save the world?
Below the video you will find a link on how to make your business goals come true. Click and book a free consultation.
Does your company have plans to reorganize information systems or to develop your business otherwise? Make an hour's appointment for an expert's assessment, free of charge. You'll have essential recommendations for development, and you can use these as the basis for the development work.
Make an appointment for a consultation free of charge